Sorry, Merriam-Webster, but Hot Dogs Are Not Sandwiches
On the Friday before Memorial Day, Merriam-Webster sent out this tweet:
Have a great #MemorialDayWeekend. The hot dog is a sandwich. https://t.co/KeNiTAxPAm

— Merriam-Webster (@MerriamWebster) May 27, 2016
They linked to this post describing ten different kinds of sandwiches and asserted that "yes, the hot dog is one of them." They say,
We know: the idea that a hot dog is a sandwich is heresy to some of you. But given that the definition of sandwich is "two or more slices of bread or a split roll having a filling in between," there is no sensible way around it. If you want a meatball sandwich on a split roll to be a kind of sandwich, then you have to accept that a hot dog is also a kind of sandwich.
Predictably, the internet exploded.
Users took to Twitter with the hashtag #hotdogisnotasandwich to voice their disagreement. Numerous Twitter polls showed that anywhere from 75 to 90 percent of respondents agreed that the hot dog is not a sandwich. Meanwhile, Merriam-Webster's Emily Brewster went on the podcast Judge John Hodgman to defend Merriam-Webster's case. Part of her argument is that there's historical evidence for the sandwich definition: in the early to mid-twentieth century, hot dogs were commonly called "hot dog sandwiches". Jimmy Kimmel, on the other hand took to his podium to make a more common-sense appeal:
Is a hot dog a sandwich? #Kimmel4VPOMGhttps://t.co/05HU3DsKw6

— Jimmy Kimmel (@jimmykimmel) June 1, 2016
That's their definition. By my definition, a hot dog is a hot dog. It's its own thing, with its own specialized bun. If you went in a restaurant and ordered a meat tube sandwich, would that make sense? No! They'd probably call the cops on you. I don't care what anyone says—a hot dog is not a sandwich. And if hot dogs are sandwiches, then cereal is soup. Chew on that one for a while.
For reference, here's Merriam-Webster's definition of soup:
1 : a liquid food especially with a meat, fish, or vegetable stock as a base and often containing pieces of solid food
Read broadly, this definition does not exclude cold cereal from being a type of soup. Cereal is a liquid food containing pieces of solid food. It doesn't have a meat, fish, or vegetable stock as a base, but the definition doesn't strictly require that.
But we all know, of course, that cereal isn't soup. Soup is usually (but not always) served hot, and it's usually (but again, not always) savory or salty. It's also usually eaten for lunch or dinner, while cereal is usually eaten for breakfast. But note how hard it is to write a definition that includes all things that are soup and excludes all things that aren't.
My friend Mike Sakasegawa also noted the difficulty in writing a satisfactory definition of sandwich, saying, "Though it led me to the observation that sandwiches are like porn: you know it when you see it." I said that this is key: "Just because you can't write a single definition that includes all sandwiches and excludes all not-sandwiches doesn't mean that the sandwich-like not-sandwiches are now sandwiches." And Jesse Sheidlower, a former editor for the Oxford English Dictionary, concurred: "IOW, Lexicographer Fail."
I wouldn't put it that way, but, with apologies to my good friends at Merriam-Webster, I do think this is a case of reasoning from the definition. Lexicography's primary aim is to describe how people use words, and people simply don't use the word sandwich to refer to hot dogs. If someone said, "I'm making sandwiches—what kind would you like?" and you answered, "Hot dog, please," they'd probably respond, "No, I'm making sandwiches, not hot dogs." Whatever the history of the term, hot dogs are not considered sandwiches anymore. Use determines the definition, not the other way around. And definitions are by nature imperfect, unless you want to make them so long and detailed that they become encyclopedia entries.
So how can hot dogs fit the description of a sandwich but not be sandwiches? Easy. I propose that sandwiches are a paraphyletic group. A monophyletic group contains all the descendants of a common ancestor, but a paraphyletic group contains all descendants of a common ancestor with some exceptions. In biology, for example, mammals are a monophyletic group, because they contain all the descendants of the original proto-mammal. Reptiles, on the other hand, are an example of a paraphyletic group—the common ancestor of all reptiles is also the common ancestor of birds and mammals, but birds and mammals are not considered reptiles. Thus a chart showing the phylogenetic tree of reptiles has a couple of scallops cut out to exclude those branches.
Foods may not have ancestors in the same sense, but we can still construct a sort of phylogeny of sandwiches. Sandwiches include at least two main groups—those made with slices of bread and those made with a split bun or roll. Hot dogs would normally fall under the split-bun group, but instead they form their own separate category.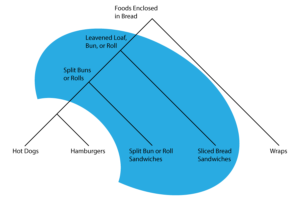 Note that this sort of model is also quite flexible. Some people might consider gyros or shawarma sandwiches, but I would consider them a type of wrap. Some people might also consider hamburgers sandwiches but not hot dogs. Sloppy joes and loose meat sandwiches may be edge cases, falling somewhere between hamburgers and more traditional split-roll sandwiches. And in some countries, people might also say that the split-bun types aren't sandwiches, preferring to simply call these rolls.
Wherever you draw the line, the important thing is that you can draw the line. Don't let the dictionary boss you around, especially on such an important topic as sandwiches.